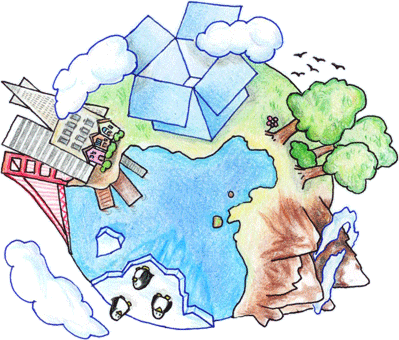 Dropbox is one of my essential tools. If you already have it, I've got 4 ways of using it that you may not know about:
1. Upload files via email
Send To Dropbox is a service that assigns you an email address linked to your Dropbox. Everything that you send or forward to that email will be saved in a Dropbox folder.
Imagine you receive an email in your mobile and you want to edit one of the attachments in a computer that isn't your own. You send it to Send To Dropbox and then you can access your Dropbox account to see the attachments.
2. Receive files from anyone without sharing a folder
You want someone to send you a file that's too large for an email? You can use Dropbox. But, what happens if you don't want to share a folder or that person doesn't have a Dropbox account?
DropitTome allows you to receive files in a safe way without having to share a folder and without the other person having to register on Dropbox.
3. Host your website using Dropbox
Do you want to have your own website but don't want to pay for hosting or have to deal with FTP or learn to use a content manager? Host your page in your Dropbox account using DropPages.
Ideal for creating a LinkedIn contact/landing page, or market yourself in 15 seconds.
 4. Upload photos from Facebook, Twitter or Instagram directly to your Dropbox
Do you take pictures using Instagram and want it to automatically appear in your Dropbox? Use ifttt to create a connection between Instagram and Dropbox so you can keep your pictures in a safe place.
Note: ifttt is good for all kinds of things (like sending yourself an automatic copy when someone copies something from your dropbox, or automatically uploading your Flick pictures to your blog. Take a look at the "recipes"