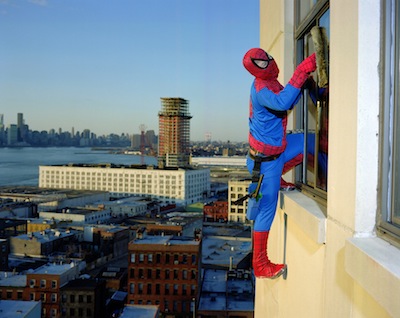 Entren en una cocina en un restaurante en Nueva York. Cualquier cocina, cualquier restaurante –comida francesa, china, judía, sushi– y encontrarán al menos un mexicano… entre el resto de los latinos.
Esto es algo que siempre hablaba con A, y con O: la xenofobia es la única fuerza capaz de destruir a Nueva York.
I saw a Spiderman costume in a store in November 2001, and that's when everything came together in my head. Comic-book superheroes have an alter ego, and so do immigrants in the United States. They may be insignificant or even invisible to much of society, but they are heroes in their homelands.
Dulce Pinzón hace una curiosa serie de fotografías para Foreign Policy. En ella, disfraza a inmigrantes de superheroes. Fíjense los montos de las remesas que envían de vuelta a casa, saquen la cuenta, y entenderán porqué.
Tnx., F.
Sigue leyendo The Magnificent Migrants | Foreign Policy.