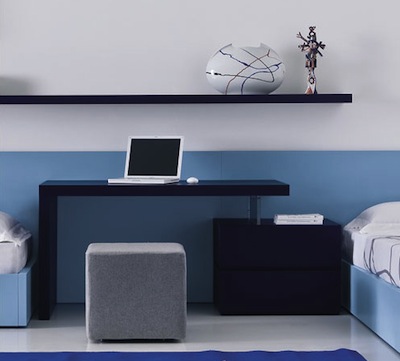 Very few people manage to establish a fundamentalist separation between their work spaces and their homes. Normally our work follows us home; our shores chase us to work and they both follow us outside.
How many times – for instance– have we arrived at the office only to find that the file we worked on all night was left on the computer at home? How many times have we asked ourselves where's that little paper where we wrote down that address?  And what about those times when we're outside and need to send or deliver a copy of some ID document?
Has this happened to you? Do you want to fix it?
—

1. Access another computer remotely

Imagine you've just left an important file at home or that you want to check from a distance an old email you've got at the office.
Today, you don't need to be in front of a machine to access it. You can simply install LogMeIn on the computer you'll be needing access to and then, by using a password protected account, you can control it from any other computer using a browser.
I use LogMeIn all the time to provide technical support to my family and reply in just three minutes questions like "how do I set double space in Word?" or "I received an email and can't open it".
LogMeIn
—
2. Store your documents in the cloud

What do you do when you need to take a file with you to keep working on it? Do you send it via email? Do you copy it on a pen drive? What if you forget to send or copy the last version?
Dropbox is a free service to store and share documents between several devices, in real time. You get 2GB for free and you can get more for free if you invite your friends!
You only need to install a small application in the computers you regularly use. This application creates a special folder in your hard drive. Everything you copy there is automatically copied through the internet and then back to all the computers in which you've installed Dropbox. Do you need to take a file or a photo? You can copy it in the folder and you're all set.
Or better yet, you keep it on that folder all the time and each modification is automatically updated in every one of your machines.
It's worth noting that after sync up, you can access the Dropbox content even without being online.
Would you like to access your folder in a different machine, for instance, at a cyber café or another person's computer without installing the application? No problem. You can log in to your account from the Dropbox website and load and upload files.
I have all my personal documents in a password protected Dropbox folder: driver's license, ID card, passport, copies of my credit cards, plane tickets, hotel reservations. If I lose something, I know I've got access to a copy from any place with an internet connection.
Dropbox also allows you to share a subfolder with other Dropbox users. I use these shared folders all the time to manage work projects with other people. At the office we have a shared folder for each client and in it we add and edit files together and we always have the latest version. No confusion and no problems of misplaced files.
Dropbox
—
3. Centralize your notes and check them anywhere

Do you have post-its on your desk, notes on a pad or spread around your laptop and mobile? I used to have a notebook where I kept all my work notes, but always left it somewhere. Afterwards, I started taking notes on my phone, but the process of passing those notes to the laptop or converting those notes into an email, was a hassle. Until I discovered  Evernote.
The magic of Evernote is that no matter where you take these notes, they sync up in all the devices where you've installed Evernote. Whether it's a Mac, PC, Palm, Blackberry, iPhone, Android or Windows Mobile or even, if the machine is not yours, you can create and check your notes on a browser.
I use it constantly, not only to take notes, but to work on current documents, write and edit posts like this one that I might have started on using a laptop and am now completing in my phone, underground (and once I have signal again, the note will sync up automagically).
Evernote also allows you to upload photos, voice notes or websites. The free version provides you with 40MB for monthly uploads, which is about 2000 notes, 400 cellphone pictures or 40 audio clips a month, which is more than enough.
Evernote
—
4. Keep a universal to-do list

For a long time, I carried a long to-do list in the notebook I previously mentioned. But every time I forgot the notebook, I'd find myself doing irrelevant tasks at the worst times. So I decided to find a tool that would allow me to manage a to-do list that was accessible anywhere, and that's how I discovered Toodledo.
Toodledo is a web application that allows you to input activities, assign them a project, a context (where you'll be performing them), a ranking and an execution date. This way, you can truly empty your brain of all your to-do's and focus on what needs to be done each day while providing some structure to your life.
By being a web app, the list can be accessed from any device with an internet connection. If you have an iPhone, you can even manage your to-do list offline and the tasks will sync up once you go online.
The service offers a free version and two others where you have to pay. But the paying ones are ridiculously inexpensive ($30/year is the most expensive one). I recommend you start with the free version and see how that goes.
The main problem with to-do lists is that we need something on those to-do lists that reminds us to check our to-do list. It's a matter of discipline. Having a list of things we need to do and knowing how to manage it are one of the key concepts to a healthy life and if you don't stop me, I could go on for hours on things like GTD, MIT and other techniques.
Toodledo
Another alternative: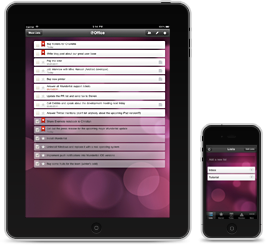 Since early 2011, Wunderlist is the darling of personal organizers. This web application is a multiplatform and allows the lists that you create in the computer to automatically sync up with the ones you carry on your mobile and vice versa. Its super easy to use and a delight for your sight.